Lock Up the Place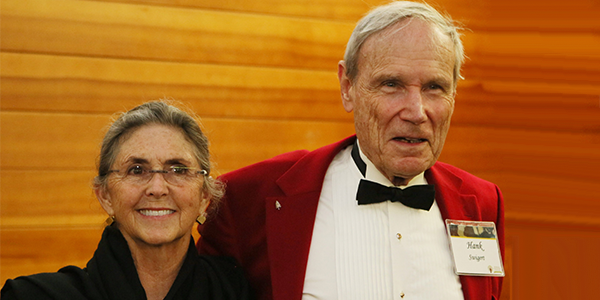 Hank Swigert used to lock up the place at the end of the day. That was when OMSI was located on the hill at Washington Park. To him, it was just another one of the many responsibilities of an OMSI Board Trustee: make sure the place is safe and secure, ready to provide world-class informal science education to Oregon's children. OMSI kids were Hank's kids. He always wants the best for them. So, Hank made a provision in his will to support OMSI and the future education of generations to come.
To this day, Hank believes one of his greatest accomplishments was volunteering as a Trustee for OMSI, and spending 46 years at his family's business. He worked on the shop floor to board chairman and everything in between. Both institutions revere Hank's commitment, leadership, and generosity.
He first got involved with OMSI because his father and uncle were very active community members. They instilled in Hank the idea that one should give back to the community that gave so much to them personally and professionally. His uncle established the C.F. Swigert Jr. Endowment Fund for OMSI's benefit. Hank considers OMSI "as one of Portland's world class resources." He admires the excellent leadership and the importance of providing children and adults science education. Through his support and planned gift, Hank hopes to see OMSI continue to grow its programs and physical footprint for generations to come.
When asked who inspires him, Hank confidently states his grandfather and father. These two individuals gave him so much. Their advice was to always take care of your family, employees, and community. Then with a smile full of admiration, he adds that Nancy Stueber, OMSI's President Emeritus, is the primary motivation for supporting OMSI and making a bequest in his estate plan. OMSI is honored to add Hank to our J.C. Stevens Legacy Society.
Although Hank is no longer an active OMSI Board Member, he is a member of our Emeritus Board. He is staying very busy as a board member for several other local non-profits and continues to play squash, tennis, and paints.
OMSI thanks Hank for making plans to support OMSI well into the future as a member of the J.C. Stevens Legacy Society.
About the J.C. Stevens Legacy Society
The J.C. Stevens Legacy Society, named after OMSI's visionary founder, recognizes donors who have included OMSI in their estate plan. We are pleased to extend special invitations to exclusive OMSI events and private tours to Legacy Society members. All you need to do is tell OMSI that your plan is in place and that you are willing to be publicly listed on the J.C. Stevens Legacy Society honor roll, setting the example for others to follow. If you wish, your gift can remain anonymous.
To learn more about how you can become a member of the J.C. Stevens Legacy Society, please contact Miguel Cobian at (503) 797-4522 or [email protected].